The ultimate in small watercraft outboard mud motors is now here!

The River Run™ 7HP is perfect for small size boats up to 14 feet in length and up to 48" in width. Sometimes called Mud Motors for strength in cutting, the River Run™ Outboard performs awesome in deep water! $2595 Click Here To Buy
7 HP Mud Motor Surface Drive Outboard
With the River Run™ style of outboard, your destination is virtually boundless! With our Outboard, you can go in virtually no water allowing you to reach areas for fishing or hunting that you would not dare try with a conventional outboard powered boat! Now you can now get there! Fish in the tightest areas. Hunt in remote locations. We'll get ya there! All that and no sacrifices!
Fisherman and hunters will find no conventional type outboard will match the performance of the River Run™ Marine outboard. No longer do you have to worry about damaging your outboard motor! Our Outboard is designed to take hits and cut through basically any type of grass or under brush. Our Outboard features an air-cooled engine. One less hassle!
Powered by a Kohler Command Pro Series Electric Start Engine with gear reduction wet clutch, starting out and pulling into the boat ramp is a breeze!
7 HP model with the reverse drive option
River Run Outboards beat conventional style outboards in every category!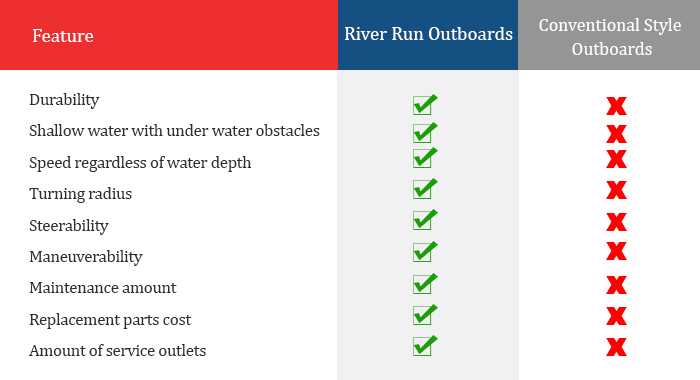 Features:
All aircraft grade American made aluminum construction. All components manufactured, welded and assembled in our Belleview Florida manufacturing facility.
Our Easy-Adjust Trim Height Adjustment Knob allows you to easily adjust for various types of conditions on the fly. The knob is UV resistant and has a very comfortable slip proof grip.
Our Adjustable Rear Cavitation & Safety Plate allows you to adjust how the River Run™ Outboard responds to the draft type of your boat by allowing you to adjust the back of the Cavitation Plate up or down. You can also adjust up or down for the style of boating that you do!
Gates Powered highly efficient belt drive system including a unique custom designed tensioner allowing you the greatest amount of belt life and no dip in performance! We worked closely with Gates engineers to over-design this system! Belt Drive Pulleys are heat treated with a special treatment and then are galvanized for extreme marine environments.
The Stainless Steel Forged and Heat Treated Propeller will sure take some abuse in your excursions into the skinny areas and the River Run™ propeller is up to the challenge! Our propeller is aggressive in design and our special heat treating process allows for the surfaces that cut to last a lot longer. Another benefactor is an extreme increase in resistance to impacts such as logs and rocks.
Powered by a Kohler Command Pro Series Electric Start Engine with gear reduction wet clutch, starting out and pulling into the boat ramp is a breeze! The Kohler engine carries a 3 year warranty and the warranty is serviced at thousands of Kohler Factory Certified Service Centers throughout North America.
Special Marine Grade Powder Coating for extended surface finish life in harsh slat water environments. We worked with the manufacturer to provide the best possible powder to withstand "hard play' on the River Run™ Outboard. Each part goes through a special pre-bake process.
Stainless Steel Hardware for withstanding salt water.
Outstanding Fuel Economy-The Kohler Command Pro line of engines is very fuel efficient allowing you to go a lot further on a tank of fuel compared to other style engines.
*Patent Pending
Click here to check out our 9.5 HP Outboard Mud Motors